Buddhist Recovery Academy
---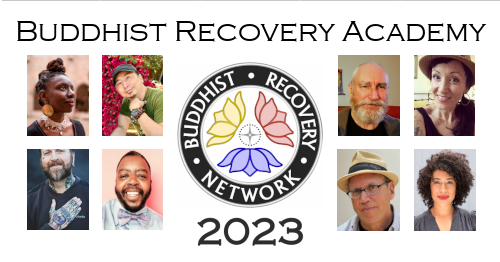 ---
Next Teaching
Help us to pass the teachings on freely by supporting us by attending and with your generous dana.
Subscibe to our News and Events
Welcome to the Buddhist Recovery Network Academy!
The BRN Academy is a new incarnation of the former Healing and Insight Teaching Faculty, co-founded by Vimalasara (Valerie) Mason-John and Giles Collins. The Academy has invited some of the leading teachers in the field of Buddhist recovery. On the first Sunday of every month for an hour each teacher will explore the sharp edges of suffering through the lens of the Buddhist Teachings.
The Academy brings together teachers from different Buddhist lineages and approaches. Themes like addiction, alcoholism, depression, stinking thinking and compulsive behaviours will be explored.
Being aware of the pressures imposed by international time zones, the Academy attempts to offer as convenient times as possible for most people currently involved with the BRN. The teachings will commence on the first Sunday of every month at:
10:00am US Pacific time
12:00 pm US Central time
1:00 pm US Eastern time
6:00 pm UK time
5:00 am the following day (Monday) Sydney, AU time
7:00 am the following day (Monday) New Zealand time
Note: the 'room' will be open 15 minutes ahead of time for a prompt start as indicated on the timetable.
We at the BRN are very excited by shifting our Academy time to reach more international members of the recovery community, and we hope you will join our Academy and benefit from this invaluable opportunity.
With warmth and kindness,
Silasiri
President, Buddhist Recovery Network