⚠️ Coronavirus Note
Due to the COVID-19 pandemic, in-person meetings may have been canceled or moved online. Please contact your local meeting organizers before visiting an in-person meeting to confirm.
See our List of Online Meetings


Buddhist Recovery Academy
---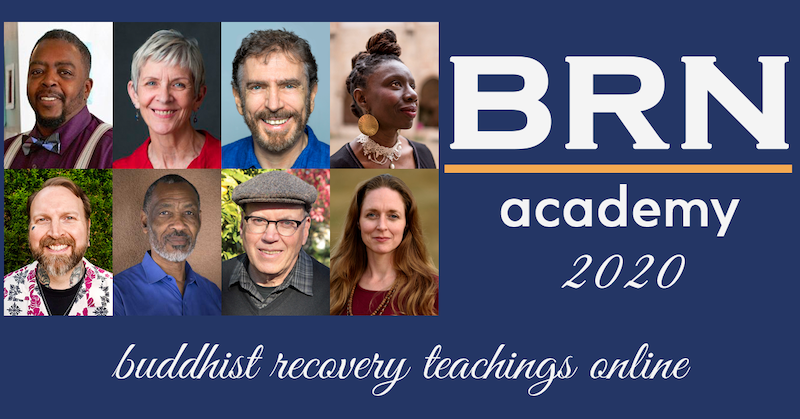 ---
Next Teaching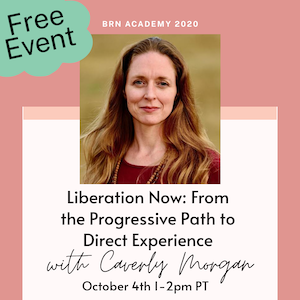 Next BRN Academy teaching with Caverly Morgan -- October 4th 2020 @ 1:00pm US Pacific Time
Liberation Now: From the Progressive Path to Direct Experience
In a progressive path approach to practice, we sometimes fall for the idea that liberation is in the future.
We are conditioned to believe that we must end thinking, master practices, meditate for years, and purify our minds. Without realizing it, our beliefs maintain the conditioning that stands in the way of our direct realization.
Rather than turning the attention outward to various objects of practice--mantras, counting the breath, focusing on sound--what changes when we cultivate our effortless capacity to rest the attention in Awareness?
What changes as we practice inquiry into the nature of consciousness?
And how might this approach to practice support our recognition of what's inherent rather than feed our conditioned tendency to strive?
Help us to pass the teachings on freely by supporting us by attending and with your generous dana.
Subscibe to our News and Events
Welcome to the Buddhist Recovery Network Academy!
The BRN Academy is a new incarnation of the former Healing and Insight Teaching Faculty, co-founded by Vimalasara (Valerie) Mason-John and Giles Collins. The Academy has invited some of the leading teachers in the field of Buddhist recovery. On the first Sunday of every month for half an hour each teacher will explore the sharp edges of suffering through the lens of the Buddhist Teachings.
The Academy brings together teachers from different Buddhist lineages and approaches. Themes like addiction, alcoholism, depression, stinking thinking and compulsive behaviours will be explored through a 5 minute meditation/reflection, a 15 minute talk and ten minutes for questions.
Being aware of the pressures imposed by international time zones, the Academy attempts to offer as convenient times as possible for most people currently involved with the BRN. The teachings will commence on the first Sunday of every month at:
1:00pm US Pacific time.
3:00pm US Central time.
4:00pm US Eastern time.
9:00pm UK (BST) time.
8:00am the following day (Monday) Sydney, AU time.
10:00am the following day (Monday) New Zealand time.
Note: the 'room' will be open 15 minutes ahead of time for a prompt start as indicated on the timetable.
We at the BRN are very excited by this new development, and we hope you will join our Academy and benefit from this invaluable opportunity.
With warmth and kindness,
Vimalasara
President, Buddhist Recovery Network