Buddhist Recovery Network book review
---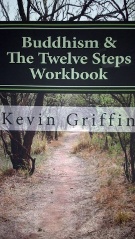 "Buddhism and the Twelve Steps: A Recovery Workbook for Individuals and Groups"
Kevin Griffin
One Breath Books; 1 edition (January 1, 2014), 2014.
ISBN 0615942210, 978-0615942216
Paperback. 254 pages.
School/perspective: Buddhism and the Twelve Steps

Order this book online at Amazon
---
Chapter headings:
Dedication
Preface
Introduction
The Way of Mindfulness and Recovery
PART ONE: SURRENDER

For the Newcomer
Step One
Step Two
Step Three

PART TWO: INVESTIGATION AND RESPONSIBILITY

Step Four
Step Five
Step Six
Step Seven
Step Eight
Step Nine

PART THREE: FULFILLMENT

Step Ten
Step Eleven
Step Twelve

Appendix A: Buddhist Recovery Meetings
Appendix B: Resources
Acknowledgements
Selected excerpts:
-- none --

Order this book online at Amazon
---
The Buddhist Recovery Network does not officially endorse any of the book reviews that appear on this site. They are private viewpoints that may or may not represent the views of the organisation or its members. Readers are free to submit book reviews for publication on this site via the link below.
---
Reviews posted:
-- none --
---
Review submission
To have a review of this book considered for publication, please email it to contact at buddhistrecovery dot org