⚠️ Coronavirus Note
Due to the COVID-19 pandemic, in-person meetings may have been canceled or moved online. Please contact your local meeting organizers before visiting an in-person meeting to confirm.
See our List of Online Meetings


Buddhist Recovery Network book review
---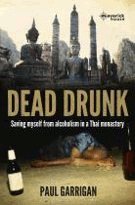 "Dead Drunk: Saving myself from alcoholism in a Thai monastery"
Paul Garrigan
Maverick House Publishers (February 21, 2011), 2011.
ISBN B004OYTEPA
Kindle Edition. 184 pages.

Order this book online at Amazon
---
Selected excerpts:
-- none --

Order this book online at Amazon
---
The Buddhist Recovery Network does not officially endorse any of the book reviews that appear on this site. They are private viewpoints that may or may not represent the views of the organisation or its members. Readers are free to submit book reviews for publication on this site via the link below.
---
Reviews posted:
Editorial Review -
Dead Drunk is the moving and powerful story of a teenager who lost himself to alcohol addiction after the breakdown of his parents' marriage.
Paul Garrigan has written an honest (and often darkly humorous) account of the events that led him to travel the world and embark on a series of staggering drinking binges throughout the 1980's and 1990's. His adventures took him from the quiet suburbs of Dublin to begging on the streets of London, getting paid to drink in Oxford and swigging illegal booze in Saudi Arabia, before finally ending up in a remote Thai village where he finally succumbed to his addiction, and was determined to drink himself to death.
Faced with the possibility of liver failure, and the breakdown of yet another relationship, Garrigan was ultimately forced to face his inner demons. While surfing the Internet one night he came across a highly unorthodox detox programme being offered by Buddhists monks, and in a last-ditch attempt at sobriety, he set out on what he was sure would be the strangest and most difficult journey yet.
In his extraordinary and thought-provoking debut book, Garrigan describes the physical and emotional effects of his alcohol abuse. With disarming honesty he documents his journey to Thailand's Thamkrabok Temple, where he hoped to escape his addiction and turn his life around — for once and for all. Garrigan's book is a rare first-person account of treatment at Thamkrabok Temple.
Shambhala Sun -
Shambhala Sun review.
---
Review submission
To have a review of this book considered for publication, please email it to contact at buddhistrecovery dot org