Buddhist Recovery Network book review
---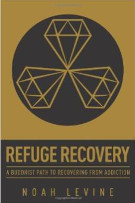 "Refuge Recovery: A Buddhist Path to Recovering from Addiction"
Noah Levine
HarperOne, 2014.
ISBN 0062122843, 978-0062122841
Paperback. 288 pages.
School/perspective: Traditional Buddhism and AA

Order this book online at Amazon
---
Contents:
Preface
Introduction
The Process
PART ONE - THE FOUR TRUTHS OF RECOVERY
1. Addiction Creates Suffering
2. The Cause of Addiction Is Repetitive Craving
3. Recovery Is Possible
4. The Path to Recovery
5. Understanding
6. Intention
7. Communication/Community
8. Action/Engagement
9. Livelihood/Service
10. Effort/Energy
11. Mindfulness/Meditation
12. Concentration/Meditation
13. The Path to Heartfulness
14. Breaking the Addiction
PART TWO - REFLECTIONS ON RECOVERY
15. Lynne
16. Jordan
17. Dave
18. Mary
19. Pablo
20. Enrique
21. RuthAnn
22. Andrea
APPENDIXES
Minfulness Meditation Instructions
Heart Practices
Format for Refuge Recovery Meetings
Selected excerpts:
-- none --

Order this book online at Amazon
---
The Buddhist Recovery Network does not officially endorse any of the book reviews that appear on this site. They are private viewpoints that may or may not represent the views of the organisation or its members. Readers are free to submit book reviews for publication on this site via the link below.
---
Reviews posted:
-- none --
---
Review submission
To have a review of this book considered for publication, please email it to contact at buddhistrecovery dot org