Buddhist Recovery Network book review
---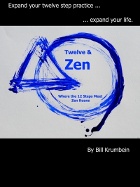 "Twelve & Zen — Where the 12 Steps Meet Zen Koans"
Bill Krumbein
Amazon Digital Services, Inc., 2012. (eBook available from Amazon's Kindle Store)
ISBN B00AIBFMEK
Kindle Edition
School/perspective: Zen Buddhism (Rinzai School), Twelve Step Program

Order this book online at Amazon
---
Table of Contents:
Introduction
Preface
Foreward
Apparent Similarities
Teaching What?
"What is Zen?"
What is Zen? What is God's Will?
God and Zen, Can They Work Together?
Bodhidharma Arrives From the West
Koans
The Koan Is About YOU

Have you been using too many colons?

Is That So?
The Steps and Koans Working Together
Step 1
Step 2
Step 3
Step 4
Step 5
Step 6
Step 7
Step 8
Pot Luck
Steps 9 and 10
Step 12
We Practice
In Their Own Words
Passing a Koan From the Big Book
St. Francis Prayer Koans
Starting a 12 & Zen Group
Other Possibilities

Treatment Centers
Zen Teachers and Leaders

And There You Have It
Resources
Acknowledgements
The Author
Comments From Others
Selected excerpts:
"Step 1"
"We admitted we were powerless over __________ — that our lives had become unmanageable."
"Koan: Case 5 of the Mumonkan, 'Hsiang-yen: Up a Tree'"
"The priest Hsiang-yen said, "It is as though you were up a tree, hanging from a branch with your teeth. Your hands and feet can't touch any branch. Someone appears beneath the tree and asks, 'What is the meaning of Bodhidharma's coming from the West?' [What is the meaning of Zen?]. If you do not answer, you evade your responsibility [are terribly discourteous]. If you do answer, you lose your life. What do you do?""
"Commentary: Begin by sitting with this Step for about five minutes. What am I powerless over? How is my life unmanageable? Or just a single word is enough ...powerless ...unmanageable ...admitted."
"After five minutes has elapsed, bring in the koan to your meditation. Ouch! This not a pleasant place to be, hanging by my teeth. Time to step back a little and relax... a little meditation would be helpful, and asking the Universe for some guidance ...to allow expansion of the spaces between my thoughts. The longer the space between thoughts, the quieter the mind becomes."
"How was it for you when you were "hanging by your teeth?" This is a desperate place to be and comes in many forms. Yes? What did you do to get to this place? Are you ready to let go and fall into the unknown?"
© 2012 Bill Krumbein

Order this book online at Amazon
---
The Buddhist Recovery Network does not officially endorse any of the book reviews that appear on this site. They are private viewpoints that may or may not represent the views of the organisation or its members. Readers are free to submit book reviews for publication on this site via the link below.
---
Reviews posted:
In Their Own Words -
"How are we doing with 12 & Zen?" It had been a year since we moved from meeting three or so weeks in a row to a once-a-month format. I felt a shift for the better in how the evenings progressed; the attendance was more stable; and people liked sitting with one koan for an entire month. But I wanted to know how they thought of it all. "What are you getting out of 12 & Zen," I asked. "Have you noticed any changes?"
Here is what several people had to say, plus a bonus contributor (whose email simply arrived when I was querying).
J.S. — "It's done at least two things I can think of immediately...first, it's solidified for me how koans are way more than mind puzzles...applying a koan to a step enriches my understanding of the step...perhaps as valuable, the participation of the group members in the discussion of the koan allows me to see other ways of thinking about how the koan and the step interact with each other and within my life."
B.F. — "The 12 and Zen has improved my conscious contact with God, as I understand him...hoping and praying that this knowledge will guide me in doing HIS will and carrying that out, to the best of my ability."
K.G. — "I've attended the last two 12 Step Zen meetings. These meetings are my first experience working with koans and I have really enjoyed trying to find the connection between the koan and the step. The koans have challenged my understandings of the steps and invited me to think of them in different ways. I appreciate the gently guided meetings and the respectful and light-hearted group who attend. I really enjoy hearing how the other meeting attendees link the koan and the step and I generally keep thinking about the koan for a few days after the meeting. I very much appreciate the chance to attend a 12-step meeting that is not solely Christian in it's understanding of the steps. I look forward to attending in June."
---
Review submission
To have a review of this book considered for publication, please email it to contact at buddhistrecovery dot org