Buddhist Recovery Network book review
---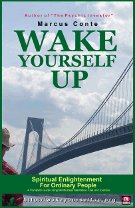 "Wake Yourself Up — Spiritual Enlightenment For Ordinary People: A Complete Guide Using Mindfulness Meditation, Diet and Exercise"
Marcus Conte
Flexible Manikin Books, 2012.
ISBN B008XDGGPE
Kindle Edition. 256 pages.
School/perspective: Theravada, Zen and Shambhala Buddhism/Meditation and Vipassana meditation; AA/NA, 11th step

Order this book online at Amazon
---
Chapter headings:
About
1. When We Become
2. The Great I Am
3. 500 BC
4. Inner Space Travel
5. Awareness
6. We Are Responsible
7. Sitting Meditation
8. Insight Meditation
9. A Nonviolent Diet
10. Run and Become
11. Our Friend Death
12. Enlightenment
Appendix
Selected excerpts:
-- none --

Order this book online at Amazon
---
The Buddhist Recovery Network does not officially endorse any of the book reviews that appear on this site. They are private viewpoints that may or may not represent the views of the organisation or its members. Readers are free to submit book reviews for publication on this site via the link below.
---
Reviews posted:
-- none --
---
Review submission
To have a review of this book considered for publication, please email it to contact at buddhistrecovery dot org