Welcome to buddhistrecovery.org
This is the official website of the Buddhist Recovery Network.
The Buddhist Recovery Network promotes the use of Buddhist teachings and practices to help people recover from the suffering caused by addictive behaviors and is open to people of all backgrounds, and respectful of all recovery paths.
Pitch in to help support buddhism and recovery
We are collaborating with Southern Illinois University Carbondale on two addiction research studies! By participating in these studies, you can help the scientific field further their knowledge of Buddhist recovery peer-support programs or help reduce some of the stigmatizing languages when discussing Substance Use Disorder.
Read more about the studies and participate here
BRN Online Meetings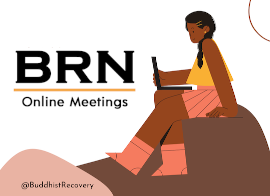 We offer meetings every Wednesday, from 5:30pm to 6:30pm Pacific Time, each week we explore a different Buddhist Recovery program
more information

Every Saturday at 12pm PST we sponsor an Eight Step Recovery BIPOC meeting
more information

The Buddhist Recovery Network is in solidarity with the BIMPOC populations.
We will not stay quiet in the face of public modern day lynchings of Black and Brown Bodies.
We will not be silent over the racial injustices that are prevalent in the USA, Canada, UK and many other countries in Europe.
In moving forward we want to be an organization that has Diversity, Inclusion and Equity at the heart of our mission.
We aspire to support recovery groups that prioritize the needs of Black and Indigenous People of Color
We will work to support creating safer spaces where people from these and other marginalized populations are safe and welcome in all recovery meetings.
---
Buddhist Recovery Academy
Latest Podcast
Want more teachings?
The latest podcasts can be found on the BRN Academy Podcast page.


What's New
Beginning March 3rd, 5:30 - 6:30 PT each Wednesday, the BRN will be hosting virtual meetings, we will be rotating the program between several formats each month; Recovery Dharma, Eight Step Recovery, Noble Steps, as well as our own Buddhist Recovery Network format.
Last updated: 30 Sep 2023

What's new?

Recovery Dharma meetings updated.
Refuge Recovery meetings updated.
A new meeting, in Barre, Massachusetts, United States. Find out more here.
A new meeting, in Montréal, Quebec, Canada. Find out more here.
A new meeting, in Brighton, United Kingdom, United. Find out more here.
And remember to check the BRN calendar for talks, retreats and workshops over the coming months. Find out more here.
The BRN Team.
Support the BRN
The Buddhist Recovery Network is a 501(c)(3) nonprofit organization that is volunteer-run and relies solely on your donations. Our Mission is to promote all Buddhist Recovery meetings no matter what their affiliation is. And to bring you Buddhist teachers from around the Globe sharing teachings and practices to help people recover from the suffering caused by addictive behaviors. We provide podcasts, meditations, educational resources for anyone who needs them.
Generosity is an act of true freedom, and thus the perfect place to start the path to total release. - Thanissaro Bhikku