⚠️ Coronavirus Note
Due to the COVID-19 pandemic, in-person meetings may have been canceled or moved online. Please contact your local meeting organizers before visiting an in-person meeting to confirm.
See our List of Online Meetings


Academy Teachers
---
Academy Teachers
---
Select a Teacher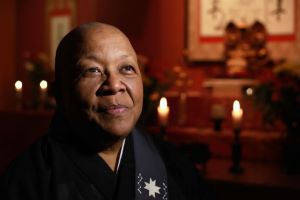 Myokei Caine-Barrett
Myokei Caine-Barrett currently holds the position of Bishop of the Nichiren Shu Buddhist Order of North America. She is the first woman and the first American to hold this position. She is also the first American woman and first person of African American-Japanese descent to be fully ordained, having completed this process in 2007 with Archbishop Nissho Uchino in Yamanashi Prefecture, Japan. She is the guiding teacher and resident priest at Myoken-ji Temple in Houston, Texas.
Myokei Shonin continues to volunteer with the Texas Department of Criminal Justice as clergy to two prison Sanghas for the past 16 years in keeping with the Lotus Sutra teaching of full equality of all beings. Her writings have been published in a variety of Buddhist magazines [Tricycle, Lion's Roar] and newspapers [Nichiren Shu News] and is featured in "

The Hidden Lamp: Stories from Twenty-Five Centuries of Awakened Women."

She is currently developing curriculum for (1) the Nichiren Shu tradition and the Lotus Sutra and (2) dealing with the trauma of incarceration and racism.
She also supports weekend trainings for Healing Warrior Hearts, a Texas for Heroes project designed to truly welcome veterans home. Myokei Shonin is a facilitator in dialogues on racism and managing conflict mindfully. She is also a licensed Religious Science practitioner.
---
Teachings