⚠️ Coronavirus Note
Due to the COVID-19 pandemic, in-person meetings may have been canceled or moved online. Please contact your local meeting organizers before visiting an in-person meeting to confirm.
See our List of Online Meetings


Buddhist Recovery Network book review
---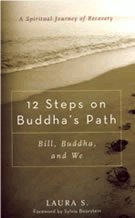 "12 Steps on Buddha's Path: Bill, Buddha, and We"
Laura S.
Wisdom Publications, 2006.
ISBN 0-86171-281-1
Paperback. 183 pages.
School/perspective: Therevada Buddhism, AA

Order this book online at Amazon
---
Chapter headings:
PART ONE: BILL W.

1. Has it come to this?
2. Strangers loved me back to life
3. One step at a time

Step One
Step Two
Step Three
Step Four
Step Five
Step Six
Step Seven
Step Eight
Step Nine
Step Ten
Step Eleven
Step Twelve

4.Promises of things to come

PART TWO: BUDDHA

5. Looking for the Buddha
6. Changing my mind
7. The first noble truth
8. The second and third noble truths

Nirvana
Dependent origination
Karma

9. The fourth noble truth

The eightfold path
Wisdom teachings
Morality teachings
Mental discipline teachings
Meditation instructions
The five hindrances

PART THREE: WE

10. The four sober truths: alcoholism is dukkha

The dependent origination of drunk dukkha
Karma in a bottle
Sober karma
Roadmap for sobriety

11. Take sober refuge in the steps

Sober refuge
Taking sober steps (Step One, Step Two, Step Three, Step Four, Step Five, Step Six, Step Seven, Step Eight, Step Nine, Step Ten, Step Eleven, Step Twelve)

12. The Eightfold sober path

Sober understanding
Sober thought / sober intention
Sober speech
Sober action
Sober livelihood
Sober effort
Sober mindfulness
Sober concentration

13. The Dharma – Promises


We are going to know a new freedom and a new happiness.
We will not regret the past nor wish to shut the door on it.
We will comprehend the word serenity and we will know peace.
No matter how far down the scale we have gone, we will see how our experience can benefit others; That feeling of uselessness and self-pity will disappear; We will lose interest in selfish things and gain interest in our fellows; Self-seeking will slip away.
Our whole attitude and outlook upon life will change.
Fear of people and of economic insecurity will leave us.
We will intuitively know how to handle situations that used to baffle us.
We will suddenly realize that God is doing for us what we could not do for ourselves.

14. Sublime Abiding


Lovingkindness / Metta
Compassion / Karuna
Sympathetic Joy / Mudita
Equanimity / Upekkha

Works cited and suggested readings
Brief glossary of selected terms in Buddhism
Appendix: Twelve steps and twelve traditions
Index
Selected excerpts:
"It became clear to me that for my personal spiritual journey, I need both AA and the Dharma. AA alone does not fulfil all my spiritual needs, and Buddhism alone will not keep me sober." (p. 101)
"In sobriety, my relationship to the past has gone through three main phases. First, until I had been sober for some time, I wished all my drinking life had been spent in a blackout. I didn't want to remember any of it. I wanted to "shut the door on" all the pain and humiliation that I did remember. The second phase was the acceptance that everything that had happened to me during my drinking was necessary for me to achieve whatever sobriety I had. In the third phase, my understanding of dependent origination and karma (Chapter 8) convinced me that for me to be who and where I am at any moment, everything that ever happened in the world had to have happened. Nothing is ever lost."
"As painful as it was to look at the past, I found that "a searching and fearless moral inventory" – Step Four – could show me just what kind of unskilful karma I had created for myself and how I had hurt others when I acted without mindful intention. I could not live in the past, but I had to look at it. When I did, I found a life filled with repetitions of patterns that hadn't worked the first time or any subsequent times. I was literally leading a life of re-action, a life of reacting out the same old unskilful karma. Seeing the pattern of such actions and reactions reinforced my motivation to cultivate mindfulness in the present so that I could create skilful karma for the future." (pp. 129-130)
© 2006 Laura S.

Order this book online at Amazon
---
The Buddhist Recovery Network does not officially endorse any of the book reviews that appear on this site. They are private viewpoints that may or may not represent the views of the organisation or its members. Readers are free to submit book reviews for publication on this site via the link below.
---
Reviews posted:
Paul -
12 Steps on the Buddha's Path is an accessible, systematic attempt to create a synthesis of AA and Buddhism. Laura S. is a wise, experienced follower of both traditions, and she has tried to undertake this exercise with the utmost integrity, preserving her anonymity. Reading this book made me realise how 'Buddhist' my practice had become, rather than the more evenly weighted synthesis presented here. 'Groundbreaking' (an endorsement on the book jacket) isn't a word I would necessarily associate with this book, but 'welcome' is. Among the (slight) reservations, I must say it is more prosaic than poetic, more methodical than beautiful, and I prefer Kevin Griffin or Bill Alexander's tone of voice. Although it is very accessible, I also don't think it's the most accessible writing on Buddhism (in the way the Dalai Lama can be for example). That said, it does represent a great introduction, communicates its key points very clearly, and contains some insights not available in other books. Very much recommended.
Michael -
Written under the pen name Laura S. in respect for the 12-step Traditions and its foundation of spiritual anonymity, in her own right the author is actually both a well-known Buddhist teacher and author. Including brutal yet honest parts of her own story and descent into addiction, she also shares on a trip to the Himalayas where she first discovered Buddhism and was indeed awakened to a new path. Her subsequent knowledge and integration of both Buddhism and recovery over many years is then shown with great clarity in this remarkable and unfolding work. In what is a relatively brief book, indeed an easy and enjoyable read, she somehow manages great scope and wisdom on an amazing variety of topics. I found this book literally packed with countless small gems of wisdom, and it's therefore a guide you would wish to revisit time and time again. Whilst not providing the depth as one might find in such titles as Zen of Recovery or One Breath at a Time, Laura has nonetheless provided a hugely insightful and practical work that provides an excellent introduction to those seeking a Buddhist approach to recovery from addiction. I highly recommend this book.
---
Review submission
To have a review of this book considered for publication, please email it to contact at buddhistrecovery dot org