Buddhist Recovery Network book review
---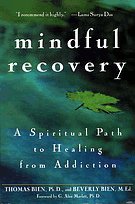 "Mindful Recovery: A Spiritual Path to Healing from Addiction"
Thomas & Beverly Bien
John Wiley & Sons, Inc, New York, 2002.
ISBN 0-471-44261-5
Paperback. 238 pages.
School/perspective: Psychology (Jung) and Buddhism

Order this book online at Amazon
---
Chapter headings:
Part One: Mindful Recovery

Introduction: Getting to here and now
The process of change

Part Two: The Ten Doorways to Mindful Recovery

Doorway One: Seeing the magic of the ordinary (Practices: Be aware of your breathing; reclaim the magic; establish moments of mindfulness; stop making hope an obstacle; recognize enough).
Doorway Two: Telling life stories (Practices: Write your own obituary; claim your freedom; weigh the pros and cons of sin/redemption; contact the hero within).
Doorway Three: Journaling (Practices: Learn to write without censoring; see mistakes as part of living; identify the chapters of your life; write your own unique life line).
Doorway Four: Meditating (Practices: Establish a meditation practice; experience the breath as happening of itself; learn not to struggle).
Doorway Five: Recreation and nature (Practices: See yourself and the world as not two; use television mindfully; shop for true necessities).
Doorway Six: Loving (Practices: See it from their perspective; see each other at meals; listen deeply; enjoy mindful touching).
Doorway Seven: Dreaming
Doorway Eight: Working (Practices: Meditate on work as blessing and curse; find alternative ways to restore yourself after work; transform your thinking).
Doorway Nine: Transforming negative emotions (Practices: The five remembrances; the Four Noble Truths).
Doorway Ten: Living moment by moment (Practice: Imagine nothing).

Recommended reading
Selected excerpts:
The Ten Doorways to Mindfulness, (Doorways One to Five pp. 22-23)
"Doorway One: Return to the present moment. You can get overwhelmed by memories of the past, worries about the future, and other distractions. When that happens, you may be in danger of relapse. By bringing a gentle, compassionate awareness to your surroundings, your thoughts, and your feelings, you will discover that your need to engage in addictive behavior diminishes."
"Doorway Two: Consider your life as a story you are still writing. Many people hold on to life scripts connected to their addiction, which perpetuate negative life stories as well as continued attraction to drugs and alcohol. You don't have to get stuck there. You can write a new story."
"Doorway Three: Use journaling to deepen awareness of your life story and open the door to spiritual awakening. Regular journaling brings the power of mindfulness to bear on repetitive problems and aids in contacting your inner wisdom."
"Doorway Four: Practice meditation to become more accepting of yourself and your life. When you become more accepting of what hurts as well as more aware of life's many positive aspects, you establish a firm spiritual foundation for recovery."
"Doorway Five: Find ways to connect with the natural world. Addicted people are often alienated from the natural world. A return to nature is incompatible with addiction. Conscious, mindful choices about your recreational time prevent you from squandering it on passive pursuits that do not employ your higher human qualities, such as intellectual, artistic, and spiritual activities."
© 2002 Thomas Bien and Beverly Bien

Order this book online at Amazon
---
The Buddhist Recovery Network does not officially endorse any of the book reviews that appear on this site. They are private viewpoints that may or may not represent the views of the organisation or its members. Readers are free to submit book reviews for publication on this site via the link below.
---
Reviews posted:
Paul -
This book is full of practical, accessible techniques for practising Mindfulness in daily life. It is structured into ten 'Doorways' to Mindful Recovery, and draws on their work as clinical psychologists working with people recovering from addictions. Their approach is strongly influenced by Jungian psychology as well as Buddhism, so if that's your background you should enjoy it. If you are looking for some inspiration in developing a daily practice, and becoming more mindful, this book is a great starting point. My only concern is that because neither author has first hand experience of alcoholism, there is less empathy for the experience of alcoholism compared to writers like Griffin, Alexander and Ash. It also leads to some advice (very occasionally) that some AAs would consider questionable, if not actually dangerous.
Michael -
"With mindfulness strive on", so were the last words of the Buddha some two thousand five hundred years ago. In this book the authors, both clinical psychologists, illustrate in a clear and practical way how to utilize the Buddhist practice of mindfulness, living life fully in the present moment. In recovery terms, it is 'letting go' and 'living in the now'. For those suffering from addiction the present moment seems never enough. We're either looking back or projecting forward, or simply being constantly distracted or engaged elsewhere by our thoughts, and so this book offers the perfect antidote. Presenting ten 'Doorways' to Mindful Recovery, they go on to describe various practical strategies for being more mindful in one's recovery, developing and cultivating a sense of calm awareness. Drawing strongly on Buddhism as well as psychology, I believe this book offers some practical advice for not just living 'one day at a time' as a spiritual practice, but indeed living fully each moment. I love the story in the foreword of this book featuring two meditators seated next to each other, one an old monk and the other a novice with a perplexed expression. The monk says to his young student "Nothing happens next. This is it!". This is it indeed.
---
Review submission
To have a review of this book considered for publication, please email it to contact at buddhistrecovery dot org