⚠️ Coronavirus Note
Due to the COVID-19 pandemic, in-person meetings may have been canceled or moved online. Please contact your local meeting organizers before visiting an in-person meeting to confirm.
See our List of Online Meetings


Online Buddhist Recovery and meditation Meetings - COVID-19
---
Extraordinary times call for extraordinary support!
See our list of Online Meetings.
New weekly meeting from BRN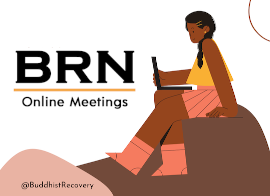 Buddhist Recovery Network is pleased to announce that it will be offering meetings every Wednesday of the month, from 5:30pm to 6:30pm Pacific Time.

More Information



More meetings open to all
Facebook Online Meditation Practice Community
A collectively organized online meditation practice community, intended as support for one another during the COVID-19 outbreak.
https://www.kevingriffin.net/zoom-meetings/
During the current health crisis Kevin Griffin will be leading an online study of his book One Breath at a Time: Buddhism and the Twelve Steps. Classes every Tuesday at 10am Pacific and Friday at 7pm. Classes will be recorded.

Portland Insight Meditation Community
See the full schedule of online meditation gatherings and Dharma talks that PIMC is hosting
Eight Step Recovery
Recovery Dharma Pacific Northwest
These Pacific Northwest meetings are open to all.

Olympia - Tuesdays 6:30-8pm Pacific Time
Sit and Share
Monday, Thursday and Sunday Sit and Share - more information
7:45pm until 9pm (UK Time)
Zoom Link - Facebook Group
April 15th, Vince Cullen is starting a six week course "Foundations of Awakening & Recovery" A series of online talks exploring Buddhist-oriented practices and principals that are intended to lead away from avoidable-suffering. The source material is contained in the free 'From Hungry Ghost To Being Human' booklet.
12 Step Zen (San Diego, CA)
Founded January 2012, this group is hosted by Peter Kuhn, an ordained member of the Order of Interbeing in Thich Nhat Hanh's Plum Village Tradition.


Noble Steps
http://www.thenoblesteps.com/online-meeting-schedule.html

Offering six different meetings open to all.

Sunday 5-6:30pm Eastern Time
Wednesday 7-8am Eastern Time
Wednesday 6-7:15pm Eastern Time
Friday 6-7:15pm Eastern Time
Saturday 8-9am Eastern Time
Saturday 7-8:15pm Eastern Time
AA and meditation